Winter has come early this year, even earlier than last year in fact for us. The UK is having another cold winter with snowy weather.
Living in the depths of Cornwall, we are usually the last to see snow, if at all. However we've already had a few flurries this week!
Still, I am quite enjoying it at the moment...it gets me in the mood for making chutneys, & Christmas biscuits, snuggling under the duvet on the sofa to play computer games, & painting magical mythical woods!
This is a quick photograph of my latest work, just finished :)
Twilight Wood
Approx 14 x 10 "
Watercolour
"Where mystical creatures roam, & strange things happen.
Along with the moonlit mists comes magic, & more... "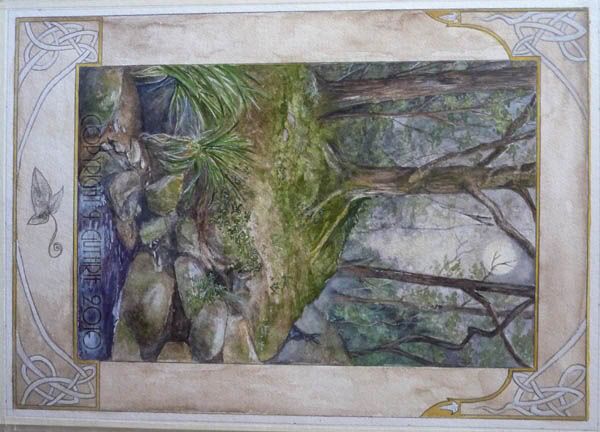 Do you see the magical moonlit hare? :)
So now my attentions turn to the next image... which one will clamber its way forward in my head to reach the paper first I wonder? :)
I never really know which one will be next until it appears on the paper before me.
Perhaps I'll take a break to make some gingerbread men, or more Christmassy things while I wait to see what the muse comes up with!
I shall leave you with a photo of one of the yummiest chutney's I've made yet... 'Plum & Red Onion Chutney'. So simple, & yet so delicious. You can find the recipe in the discussion section of my Facebook page if you care to have a go yourselves! :)