*An illustration inspired by the book 'Greenwitch', by Susan Cooper*
(click to enlarge photos)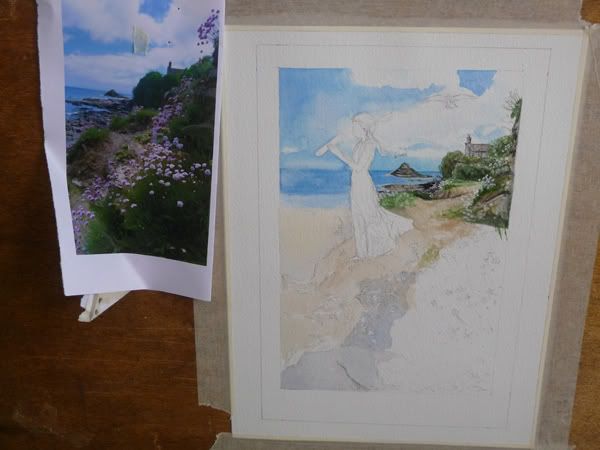 ~Greenwitch~
"Out here last year, she and Barney and Simon had reached the peak of their adventure, the achieving of the grail that had lain for hundreds of years in a cave, the entrance totally covered by water at all but the lowest tides. Out here, they had fled from the pursuing Dark, with the grail and the little lead case they had found inside it.
And out here, she thought as she reached the furthest point of the rocks, with the waves breaking white at her feet, just here, in the flurry of saving the grail, the little lead case had plummented into the waves & down to the bottom of the sea.
And the Greenwitch had found it there, and made it a precious secret.
Jane looked at the deep green water beyond the breaking waves. "Good bye Greenwitch," she said softly."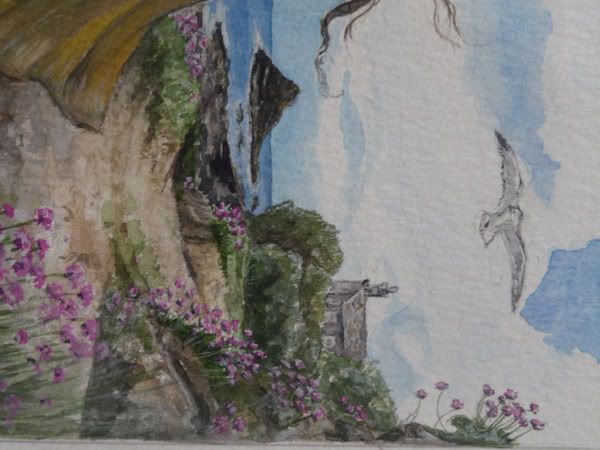 " 'You'm dreaming,' Mr Penhallow said indulgently.
'That I'm not. But that young Jane was, one night. That same night everyone was dreaming, the night the whole village was hilla-ridden...such talk there was next morning, of things best forgotten..."
" 'Twasn't her dreaming that stays with me,' Mrs Penhallow looked out at the quiet harbour, and the drifting gulls. 'Twas her room. Clean as a pin it was the night before, she'm a neat little maid. But everwhere in that room, that morning, there was a great mess of twigs and leaves, hawthorn leaves, and rowan.
And everywhere a great smell of the sea.' "
'Secret Of The Greenwitch'
6.5"x10"
Watercolour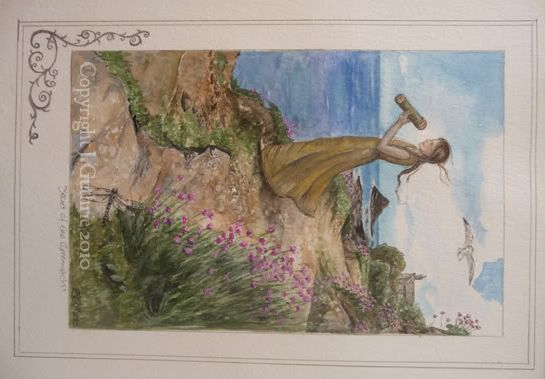 A book from 'The Dark Is Rising Sequence' which as regular readers of this blog will know, has been a big love of mine since childhood. Especially now I live in deepest darkest Cornwall, surrounded by settings used in the books. :)
It is also the original inspiration for my 'Storybook Cornwall' series, and so this is probably one of the most meaningful paintings I've ever done.
'Greenwitch' holds a magic for me like no other story.